signiert und mit einer Zeichnung versehen
Animals
- Ken Tosa
Verlag:
Lieutenant Willsdorff
"Ken is not a pervert, even if he seems to have everything in common with the Mark Lewis created by Michael Powell. All he is doing is merely questioning a certain form of sexual animalism through the artistic lens – and being a Peeping Tom, prowling the bars and the night clubs, cruising the streets for a prostitute are its most obvious expressions.
He doesn't come up with any answers. He shows, asks and tries to get something out of it. A mood, a cinematic atmosphere, a hard-boiled fiction. A kind of photographic gonzo in the style of Mondo Cane. 
However, with his self-made infrared candid camera, he may be questioning photography – the ethics behind the act – and the status of the image even more..."
(Auszug aus den Bemerkungen des Herausgebers)
208 Seiten, 19,5 cm x 14 cm, Texte in Englisch und Französisch, signiertes Exemplar, zusätzlich versehen mit Zeichnungen des Fotografen
21,00 €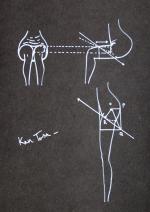 Shopping cart
Your shopping cart is empty.