address
When earlier this year i held Julia Borissova's book "address" in my hands and leafed through the pages i was really fascinated. And at the same time quite some questions arose. About the atmosphere of winter, the connections between present and past, the autobiographical foundation of this book. I am happy that Julia Borissova answered some of my questions. And i guess what she wrote might be interesting for others too. So here are some excerpts from her mail:
One of my first memories is a dim evening light, I feel a biting frost on my cheeks, I'm wrapped in a fur coat sitting in a sled. This sensation of cold had an impact on my imagination, in order to move on in search of visual images for my book. I mostly photographed in the winter, because the gray light, the absence of bright sunlight were important for me.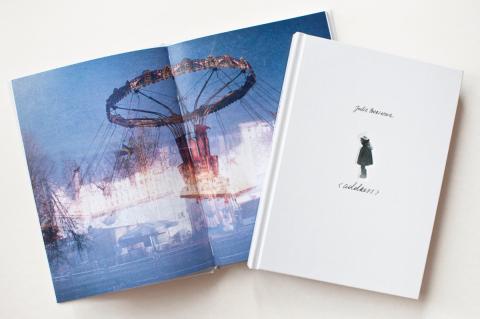 Referring to the past, I reviewed photos from my family archives and paid more attention to those photographs that didn't evoke any memories. For the book I chose the most abstract pictures. In my opinion they could belong to anyone and therefore give the greatest scope for imagination and interpretation. I was looking for almost anonymous pictures which can be a reminder of something.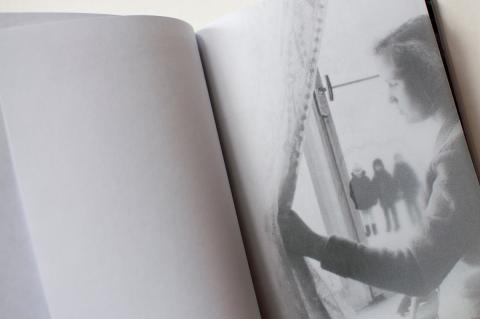 Sometimes I left empty spaces in the pictures instead of figures. It complements the works as if it's a part of an unfinished painting, which each viewer can finish on his own.
"Bergson's major theses on time are as follows: the past coexists with the present that it has been; the past is preserved in itself, as past in general (non-chronological); at each moment time splits itself into present and past which is preserved". (Gilles Deleuze. Cinema II)
In this work I tried intuitively to look for the connection between my previous residence and present me. The way how we remember our past is related to the fact how we understand ourselves today. This is a very important question for me. So not only here I refer to this subject, but also in the preceding project "DOM". There I have explored how we keep in mind and remember the place where we once lived and how this place forms us.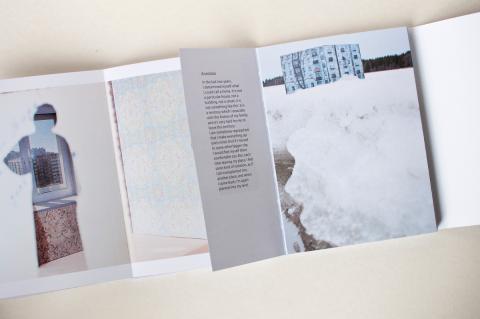 double page and spreadouts from DOM
I used several different techniques. At first it was a mix of two images in different ways such as double exposure, the imposition of a different image printed on vellum, and sometimes some object appeared on top of the image. All these techniques were necessary for me to show the intersection or even the presence of the past in the present. 
I tended to create not a real story, but some opportunity for the viewer which will enable an interpretation of one's own. I aimed to add to my work the sense of elusiveness, not so much autobiographical but enigmatic.
The book can still be ordered via
Julia Borissova's website
. Or if you come to Offprint and Polycopies in Paris this year you will find the book at my tables. You are welcome to have a look for yourself!
---
Fakten:
Julia Borissova: "Address", St. Petersburg 2015
selfpublished
224 Seiten, 22 cm x 16,5 cm, Hardcover mit Prägung
Auflage von 100 nummerierten und signierten Exemplaren
---
Submitted by

Hermann Lohss

on 3. November 2015 - 20:23
Shopping cart
Your shopping cart is empty.